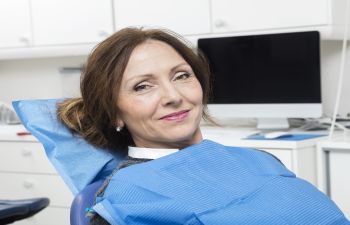 Are you embarrassed or frustrated by a loose denture? With the help of an excellent denture dentist in Brookhaven, you can enjoy a more stable bite with your denture.
Why Your Denture is Loose
The bone underneath your gums changes in height and density over time. Over the months and years that you wear a denture, it presses on the bone beneath your gums and makes it change shape. 
As the bone in your jaw changes, the denture stops fitting over your gums the same way it used to. 
New dentures can start to feel loose if they were fitted to your gums shortly after your teeth were extracted. The denture was designed to fit over very swollen gums. As your gums heal and the swelling goes down, your denture will start to feel loose again.
How to Make Your Denture More Stable
Wear a denture adhesive. Denture pastes and creams are no substitute for a well-fitting denture. But they can boost your confidence until you can see a Brookhaven denture dentist. Adhesives can also provide an added measure of security if you're a first-time denture wearer.
Have your denture adjusted or relined.Loose dentures are usually a sign that your denture needs to be relined, adjusted, or replaced entirely. When your dentures slide around, it means that either your mouth has changed shape, or your denture has become warped or damaged in some way.
Consider a denture alternative. If you're someone who will just never get used to wearing dentures or if your jawbone does not support traditional dentures very well, then you may be a candidate for dental implants.
Contact us today to schedule your next denture checkup.