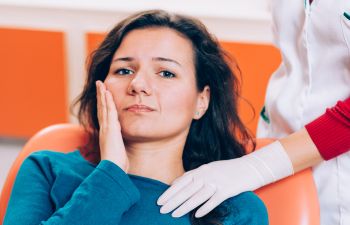 In Brookhaven, we offer same-day emergency dental treatments for all ages. But during this time of "social distancing" and the rapid spread of COVID-19, our Brookhaven dentist is taking special precautions to ensure the safety of our patients and staff.
Are You in Pain?
How severe is your discomfort? If it's something minor that you can manage with an over-the-counter pain reliever, an anti-inflammatory like ibuprofen (Motrin) works best. But severe pain that's preventing you from being able to eat or work is something you need to call us about.
Is There Swelling?
Minor swelling because of gingivitis or an abscess do require treatment, but they may not qualify as "essential services" during a coronavirus pandemic. Take care to clean the area well, rinse with warm salt water, and possibly apply a cool compress on and off every 20 minutes to reduce inflammation.
Did You Break or Knock Out a Tooth?
If so, time is of the essence! Store your tooth or fragment in a sealed container, making sure that it's totally submerged in milk, contact solution, or tap water with a pinch of salt. Call our Brookhaven dentist immediately. For best results, we'll need to see you within the next 1-2 hours.
At Elegant Smiles, we're taking specific steps above and beyond our strict infection control protocol to keep everyone safe. If you need an emergency dentist in Brookhaven, we're able to provide care to patients of all ages, even if we're not your current dental provider.
Contact us today for same-day dental emergency care during COVID-19 office closures.