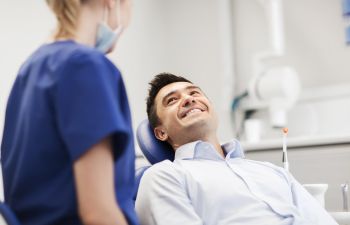 Root canal therapy is a treatment in Brookhaven, Georgia that's used to treat an abscessed tooth.  During your procedure, you can expect the following steps to take place:
Making you comfortable – We'll first numb the area to be worked on with a local anesthetic.
Isolating the tooth – Once you're feeling numb, we'll isolate the tooth by placing a rubber sheet know as a dental dam, around your tooth, and over your mouth.
Access the nerve – By using a special tool, we'll make a small opening in the tooth to gain access to the pulp chamber (cluster of nerves).
Remove the nerve – We'll remove the nerve tissue from within the length of each root (some teeth have more than one) by using special files that we place in each canal and lift the infected tissue away.
Sanitize and dry the canals – Once all of the nerve tissue has been removed, we'll flush several cleaning solutions through the canals to sanitize them. Afterward, we'll thoroughly dry the inside of the canals.
Filling the canals – To prevent bacteria from re-entering the canals we'll fill them with a special material that seals them off.
What Happens After A Root Canal?
Once all of the above steps are taken, your root canal is complete. But you might still need steps to help stabilize the tooth, remove any decay, building the tooth back up, and preparing the tooth for a dental crown.
Root Canal Therapy in Brookhaven
Once you visit Elegant Smiles and speak with Dr. Hosaka we'll go over the specifics of your root canal therapy treatment.  If you have a toothache or suspect an abscess, give us a call to schedule an appointment.