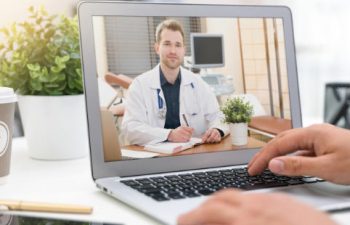 A few things have changed at Elegant Smiles (Brookhaven) over the past few months. Since dentists throughout the United States have had to change the way they see patients, there's been an exciting new way to provide emergency and consultation appointments: teledentistry.
Teledentistry is a different way of "seeing" the dentist. The virtual appointment process uses a secure digital platform, such as an app or website, to communicate back and forth with your dental provider. That way you don't have to physically step foot in the dentist's office unless it's absolutely necessary. It takes social distancing dentistry to an entirely new level!
Virtual Appointments at Elegant Smiles are great for things like tooth or gum pain, orthodontic evaluations, emergency advice, or even smile makeover information. That way you have the basic info you need and can plan the next steps (if applicable.)
You can get started with a teledentistry appointment whenever you're ready. Simply follow our virtual appointment instructions and upload appropriate photos or video to our secure messaging platform. The visit can take place in real-time with a call, or back-and-forth via secure messaging. Everything is HIPAA compliant, so you can rest assured that your information is kept confidential and safe throughout the entire process.
After our Brookhaven dentist has a chance to review your information and images, we'll reply back with appropriate information or recommendations for the next steps. If you need to be seen in-person, we can also arrange to schedule a more comprehensive exam and start treatment that day.
For more information on virtual dental visits in Brookhaven, call Elegant Smiles or visit our Doxy.me platform today to get started.