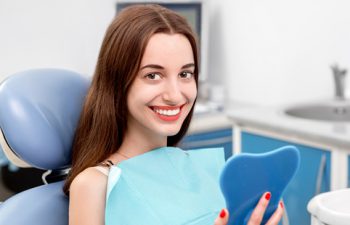 Chipped or cracked teeth are one of the most common dental emergencies that we see at our Brookhaven dental practice. And, since these injuries often occur on the front teeth — be it from an accidental bump to the mouth or an athletic activity — they typically require immediate attention. 
Depending on the size and extent of your chipped tooth, treatment might include bonding or a crown. It is important to know your options.
Choosing a Chipped Tooth Treatment can:
Restore your tooth back to a normal shape
Treat and prevent sensitivity
Eliminate embarrassing flaws in your smile
Should I Bond Over a Chipped Tooth?
Mild to moderate chips in enamel can often be covered with composite "bonding" materials. Bonding works similar to white fillings, but it's shaped over a damaged area rather than placed inside of a cavity. If the fracture is too large, bonding may not stay in place. It works best for chipped corners or edges of teeth, depending on how your teeth bite together.
Do Chipped Teeth Need Crowns?
If the fracture makes up a large portion of your tooth, bonding won't be able to withstand everyday use. Instead, it's better to cover the remaining tooth structure with a full "cap" or crown. Your crown will distribute pressure evenly, so that you can keep using your tooth like normal instead of extracting it.
In some situations, fractures might extend all the way into the nerve at the middle of your tooth. When that's the case, our Brookhaven dentists will also recommend endodontic therapy to complement the crown procedure.
Call for an Exam
Get out of pain (and embarrassment) fast. Call Elegant Smiles in Brookhaven today to request a consultation with optional same-day treatment.