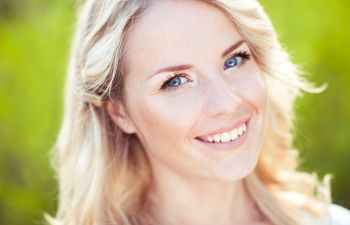 A dazzling white smile is nothing if you don't have the beautiful gums to show it off in.
Healthy gums come in a range of colors and shapes. But puffy, swollen, receded, or angry-red aren't normal descriptors of gums.
Those are actually signs of infected and inflamed gums. So if you want to keep your smile gorgeous and healthy, you need to apply the following tips:
Brush Gently Angle your brush bristles at roughly 45° to your gum line. Use a back-and-forth "jiggling" motion to loosen bacteria and debris. Apply light pressure as you do so. You should only need a few fingers to hold your brush. If you've got your whole fist wrapped around the handle or the bristles on your brush look very flat, then that could mean you're an aggressive brusher. Rough brushing leads to gum recession.
Get Vitamin C It's great for preventing colds and it promotes gum healing. Your gums need vitamin C to ward off bacterial infections, just like any other part of your immune system. But today's fast-paced society may have you overlooking the best sources of vitamin C: fresh fruits and vegetables. Load up on some oranges, now and then!
Floss and Rinse Brushing technique affects gum health, but flossing is just as important since it helps evict bacteria living at the gum line in between teeth. An antibacterial rinse can prevent plaque bacteria from growing back too quickly between brushing sessions.
See Our Brookhaven, GA Dentist Regularly Gum health is all about prevention. Professional dental cleanings and exams will help you stay ahead of any potential gum problems.
Schedule your gum evaluation today by calling Elegant Smiles.