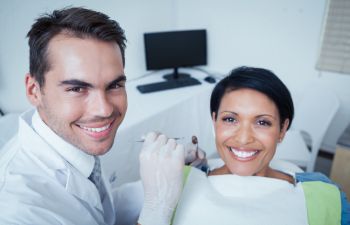 Cracked and chipped teeth are common dental complaints around the holiday season. Indulging on the likes of sticky caramel, hard candies, crispy crackers, and crunchy nuts can lead to enamel damage.
Even if you've been carefully watching your diet, an unexpected accident can also cause chipped teeth.
If you've ended up with a chipped tooth, what can you do? One of the following solutions should work for you.
Dental Bonding
Bonding is the most conservative kind of dental restoration. The process involves patching up the edge of your enamel with a bit of tooth-colored putty. The dentist smooths the composite to create a seamless seal with your tooth and then cures it with a light.
There's usually no drilling involved with dental bonding, so you probably won't need any anesthesia to numb the tooth.
Dental Veneers
Does the chip in your tooth make you feel self-conscious about how your smile looks? A slim porcelain veneer can instantly create a uniform finish and instantly boost your confidence.
Dental Crown
A tooth with a deep crack in it may need structural support. Instead of patching the chip with a veneer or bonding, you might need to "cap" the whole tooth. Dental crowns improve both the look and strength of chipped teeth.
Enamel Shaping
If you're lucky enough that your tooth is only slightly chipped, then all you may need is a little polishing up. Dr. Hosaka will gently smooth the edge of your tooth just to the point that the sharp enamel edge is buffed and evened out.
Don't let a chipped tooth spoil your holiday fun! Call Elegant Smiles today to learn more about chipped tooth restorative options in Brookhaven.