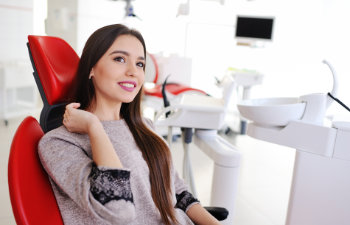 We know that not everyone looks forward to going to the dentist. However, what if you had a dentist that could not only make your treatment more comfortable, but also 50% faster? Elegant Smiles is proud to offer Isolite, one of our many advanced dental technologies that can improve your dental care experience.
What is Isolite?
Isolite is a special mouthpiece and tool that illuminates the oral cavity while also isolating the treatment areas of your mouth. It's easy to see why this device benefits both dentist and patient. The patient can remain more comfortable without straining jaw muscles and the dentist is provided a more visible and less obstructed workspace within the mouth. To make your time in the dental chair even better, the Isolite is also enabled with suction and rinsing features, which reduces the need for breaks and speeds up the overall procedure time.
Why Patients Love Isolite
As dental patients, we know you like to be as comfortable as possible, and there are certain things about the dentist that are undesirable, such as holding your jaw open for long periods of time or trying to swallow the excess irrigation and saliva inside your mouth during treatment. Isolite can drastically improve your comfort during dental visits in the following ways:
Eliminates jaw pain from holding your mouth open during a dental cleaning or other procedure.
Reduces neck and back pain associated with being in the dental chair long periods of time.
Provides suction and rinsing so you do not have to endure the need to spit or swallow during a procedure.
Sizable and hypoallergenic mouthpiece that is latex-free.
The Isolite mouthpiece is an innovative and safe tool that can be used on children as well as senior citizens. You can trust that this device is not only making your dental treatment more comfortable, but it is also allowing your dentist to perform the work more accurately and more quickly. To learn more about the Isolite device or other advanced dental technologies at Elegant Smiles, please call our office. Your comfort is our priority.