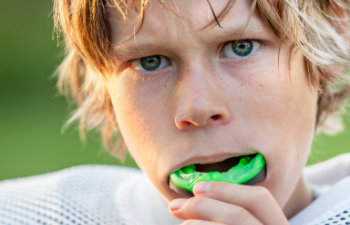 As parents or caregivers, we'd do anything to protect our children. When it comes to playing sports, one of the most important pieces of protective equipment often gets dismissed or forgotten. As dental experts who have seen it all, Elegant Smiles urges patients to invest in an athletic mouth guard. These simple oral appliances, which aren't just for football and boxing, can offer a magnitude of protection when it comes to your child's current and future smile. In fact, the level of protection that an athletic mouth guard can provide may surprise you.
What to Expect from a Custom Mouth Guard in Sports
According to the American Dental Association (ADA), athletic mouth guards are estimated to prevent about 200,000 oral injuries each year in sports activities. When it comes to dental trauma, the ADA states that athletes who do not wear mouth guards are 60 times more likely to experience dental injuries compared to those who use them. Athletic mouth guards can reduce the risk of chipped or fractured teeth by absorbing and distributing the impact forces of a blow. They also help prevent injuries to the lips, cheeks, and tongue by acting as a barrier between the soft tissues and the teeth. But that's not all.
Athletic Mouth Guards May Help Prevent Concussions
Did you know that a well-fit sports mouth guard can offer protection beyond the teeth and gums? There is increasing evidence that mouth guards can also help lower the risk of concussions in youth sports.
Concussions are typically caused by the brain experiencing a rapid movement or impact within the skull, commonly resulting from a direct blow to the head or a sudden jolt to the body. While mouth guards are not specifically designed to absorb or dissipate the forces that cause concussions, they can indirectly reduce the risk of concussions by providing a cushioning effect and helping to stabilize the jaw. This can reduce the forces transmitted to the head and decrease the likelihood of a concussion.
Schedule Your Athletic Mouth Guard Fitting
It is important to note that all mouth guards are not created equal. To secure the most protective benefits from wearing a sports mouth guard, you'll need to get it from your dentist. Custom-fit mouth guards are superior in comfort, protection and durability compared to the boil-and-bite mouth guards you may purchase from a sporting goods store.
At Elegant Smiles, we proudly offer top quality athletic mouth guards to protect your child's smile during sports. Schedule your brief office visit today to get started.